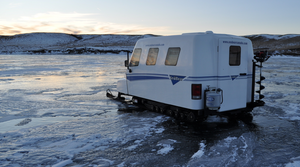 SnoBear TL
GRIZZ
SnoCoach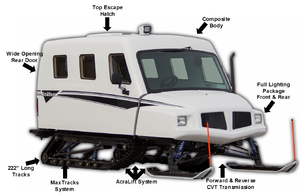 MORE FREEDOM • MORE COMFORT • MORE FISH
Nothing puts you on top of fish or gets you there in total comfort better than SnoBear!
Dependable. Designed by an avid ice fisherman for personal use, SnoBear has proven to be dependable. This unique snow vehicle is powered by a proven performance engine linked to a CVT transmission, complete with forward and reverse. This solid transmission is used on other power equipment that requires much more horsepower and stress. Coupled with the patented MaxTracks System, SnoBear is a mix of new ideas and time-tested proven components.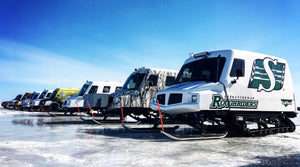 MaxTracks Technology
Each SnoBear is equipped with patented MaxTracks suspension technology. The MaxTracks System's suspension geometry prevents loss of traction by balancing the forces across the face of the 220-inch track belt and maintaining constant contact to the riding surface at all times.
This cancels out any effect due to drive line torque, no matter how much power is applied, maximizing flotation and maximizing traction in all snow conditions.
With MaxTracks you get a smooth, stable, firm and safe ride with 1 PSI ground compaction
AcraLift System
Combined with the unique track design, the AcraLift System provides versatility like no other ice vehicle. It allows the machine to lower and raise 12 inches giving it the effectiveness of a fish house built right on the ice. Experience this exclusive hydraulic lift system in your new SnoBear!
The patented AcraLift front ski mechanism is more than a suspension system, it also raises and lowers the vehicle to the ice.
The AcraLift System has two unique features which improve the functional capabilities of the SnoBear. First, the skeg of the ski stays in a perfectly vertical line throughout its travel. This allows the vehicle to raise and lower without the skis scuffing from side to side, increasing the ease and smoothness of the lift operation. Second, while the vehicle is rising, the ski rolls from side to side. This rolling action easily breaks the skis loose from freeze down. If you have ever had a snowmobile with the skis frozen down to the ice, you will know it takes considerable effort to get the skis to break free.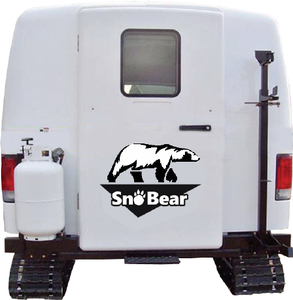 SnoBear Specifications
Comfort
The SnoBear's heated cabin speaks for itself. With all your gear and people inside, add your own accessories to the SnoBear like a TV, DVD player, microwave, your own special colour or trim. The possibilities are endless!
Exterior Dimensions
• Body Width - 84.5 inches
• Body Width over Mirrors - 98.5 inches
• Overall Length - 200 inches
• Ride Height - 92 inches
• Height (Down Position) - 88.4 inches
• Suspension Travel - 9 inches
• Hydraulic Lift - 12 inches
• Base Weight - 3,400 lbs
Interior Dimensions
• Width - 80 inches
• Length - 126 inches
• Floor to Ceiling Height - 66 inches
Electrical System
• Dedicated Deep Cycle Cabin Battery
• Dual Battery Charging System
• Independent Engine Battery